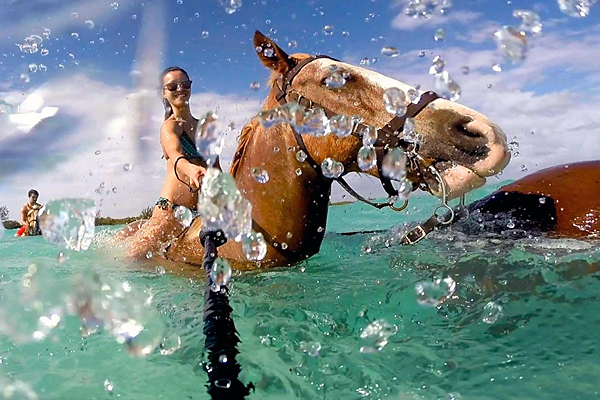 Check Availability Now For Best Rides

Horseback Riding in the Cayman Islands with Pampered Ponies gentle world-class horses provides unparalleled fun and adventure and a lifetime of cherished memories. Choose from morning, afternoon, sunset, or moonlight horseback rides along Cayman's most pristine remote beaches and nature trails. SWIM on horseback with the horses on an uninhabited stretch of beach along Grand Caymans northward shores. No experience is necessary and experienced riders may canter their horses along the seashore with our special swim rides. Located directly on the ocean on Conch Point Road in West Bay, Grand Cayman, we offer free transfers from George Town and Seven Mile Beach with all horseback riding tours.
Horseback Riding Tours with Pampered Ponies in Grand Cayman
Established in 1996, we have gorgeous, gentle, well trained horses, all extremely well cared for and quite literally "pampered". We ride the uninhabited stretch of beach along Grand Cayman's northernmost shoreline into Barker's National Park. Wade into the sea on horseback at the tip of the national park where you will see over the north sound and across to Stingray City. Our horses are trained for both experienced riders and inexperienced riders alike. More experienced riders who are able to demonstrate their ability will be allowed to canter the horses down the beach, while less experienced riders can ride at their own comfortable pace. Our knowledgable friendly guides will help you mount and provide instruction for every horseback rider's individual skill level; they will accompany you throughout your horseback riding and swimming adventures and provide caring assistance and guidance every step of the way. We not only pamper our ponies, we pamper each and every guest to ensure the best horseback riding and swimming (optional) tours in the Cayman Islands.
Beach Horseback Riding
Our expansive beach trails provide miles of pristine shoreline, ideal for exploring Grand Cayman's most scenic unspoiled beaches and near coastal areas on horseback. Depending on your preferences and level of ability, you may choose to ride, canter and even swim bareback! Sounds of the sea cascading along the shoreline provide the quintessential musical backdrop for both unfettered exhilaration and blissful tranquility. We were the first horseback riding company in the Cayman Islands to offer horseback swimming and all of our horses are all highly experienced top-notch swimmers who absolutely love a cool dip in the ocean after a warm beach ride.
Beach Horseback Ride and Bareback Horseback Swimming
Our horses really swim!
Some Cayman horseback companies only wade in the shallows
We offer true bareback swimming adventures
Swimming bareback through Grand Caymans warm tranquil seas on our gentle well-trained horses is an experience unlike any other, virtually guaranteeing the adventure of a lifetime to be forever cherished. This is truly an experience unlike any other - for both you and the horse! After cantering along the seaside our highly experienced swimming horses absolutely love a dip in the ocean! The sensation of the gentle ocean across your back as you move as one with your horse through the sea is more therapeutic than any spa treatment. This will be the best tour you do during your entire Cayman Islands vacation!
Selecting the Horse That is Right for You
At check in, we provide a thorough briefing and talk with our guests to determine their riding abilities and horse preferences. Beginners are given instruction and supervision, while advanced riders are given more freedom and may canter along the shoreline. Everyone is given a complete overview of the equipment, horses and riding plan. All of our horses are very friendly and tame, with their own unique personalities and riding behaviors. Pairing riders with horses that are best suited to them is a priority for us and an assurance for you, that your horseback riding experience will be catered to your skill level and preferences. At Pampered Ponies, it is all about you.
Pampered Ponies Video — Horseback Riding in Grand Cayman
Map to Pampered Ponies Horseback Riding in Grand Cayman
We offer free transfers to and from Seven Mile Beach to George Town Cruise Terminal but if you would like to drive yourself to the most amazing horseback riding tours in the Cayman Islands we welcome you to do so. Please just tell us when you are coming so we may reserve your space on the horseback riding tour of your choice.
Choose from our many highly popular beach, trail and even swimming horseback riding tours:
BEACH TREK—1.5 hours in the saddle on the beach
SWIM RIDE—Approximately 2 hours in duration consisting of riding first, then unsaddled bareback swimming in the sea, then re-saddled and riding back to the stable
FULL MOON RIDE—must be booked in advance and on the night of the FULL MOON ONLY! (1.5 hours in the saddle).